Welcome to the
Cottage Street Bakery & Restaurant.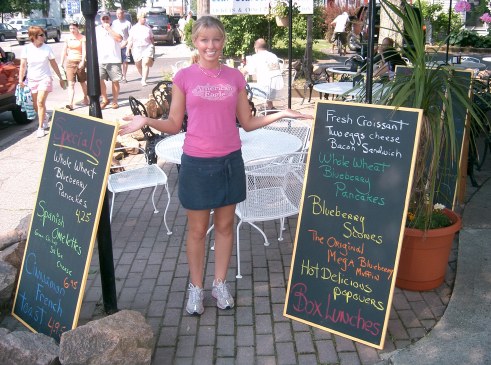 "Bakery," did someone say, "Bakery?" Indeed someone did, and it was the Cottage Street Bakery in beautiful Bar Harbor, Maine, that was being talked about. Under the red and white striped awning that covers the outdoor patio that leads into the bakery at 59 Cottage Street, some of the finest baked goods and best deli offerings in all of Bar Harbor will be found.

It's open seven days a week 6:30 A.M. to 10:00 P.M.

If it's breakfast you want, you've got it. What's on the breakfast menu? Click here for Breakfast Menu.

Sure you can come back for Lunch or Dinner. Why not! Click here for Lunch or Dinner Menu.

The option of picking up some box lunches for any occasion such as a trip up the mountain or a walk down by the water is available. Box lunches are made to order and include your choice of sandwich, a chocolate chip cookie, chips or fresh fruit, and a dill pickle.

Is this all there is to the fabulous Cottage Street Bakery and Deli? -- Probably not. Don't be surprised to find other goodies like fresh bread, quality deli meats, the tastiest birthday cakes on the planet, danishes, "big" cinnamon rolls, fruit pies including Wild Maine Blueberry Pie, an assortment of cookies, and other tasty delights.

Whenever you're in Bar Harbor, the Cottage Street Bakery is one stop you'll want to make. But pleased by warned that if you do make that one stop, you'll be hooked and will find yourself going back again and again and again. The food in this bakery and deli is that good!