Our spokes model Sara or as she is affectionately known
"Bubbles" displaying our delicious popovers!

Under the red and white striped awning that covers the outdoor patio that leads into the bakery at 59 Cottage Street, some of the finest baked goods and best deli offerings in all of Bar Harbor will be found. Bakery

The Cottage Street Bakery and Restaurant, also known as the Cottage Street Bakery and Deli, It owned and operated by Richard and Tom.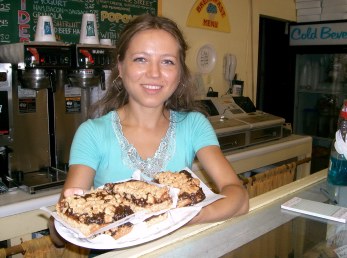 This site was designed Lynn of the Pointy Needle